Start your career journey anchored by the principle of 'precise excellence', a high standard set by our headquarters in Switzerland.
Bachelor of Business Administration
Full-time, 180 ECTS divided into three years. Our English-taught classes are dynamic and interactive with lecturers that are experts in their fields.
Master of Business Administration
One-year, internationally accredited MBA degree designed to equip students with the tools and analytical framework required for a successful career.
Doctor of Business Administration
Two years, designed on three phases: Coursework, Research lab, and Doctoral thesis. Students are guided and coached by their mentor and supervisor.
We are founded and anchored on the principle of 'precise excellence', the Swiss Standard set by our headquarters in Switzerland. This means skillfully striking a balance between academic life and applied experience with a pedagogy that provides a clear and measurable impact on the student, the industry, and the community.
Swiss School of Management Barcelona delivers an outstanding business education in the vibrant and cosmopolitan city of Barcelona as well as online.
Our high-caliber faculty is made up of consultants, entrepreneurs, full-time academics, market experts, business leaders, coaches, and mentors with real business experience who teach innovative business programs in English to a multicultural student body at the Swiss School of Management Barcelona.
Immersed in real-world business environments through company visits, international student weeks and trips at other SSM campuses, and exclusive guest speaker events among others, students gain privileged insights into how companies really work, giving them a competitive edge in today's fast-paced business world.
HOLA FROM

BARCELONA

!
HOLA FROM

BARCELONA

!
HOLA FROM

BARCELONA

!
}
Study Business here in Barcelona
As one of the world's most vibrant cities, Barcelona provides the perfect backdrop for students to immerse themselves in a rich cultural experience while pursuing their top university business courses.
Do the names Antoni Gaudí, Joan Miró, Pablo Picasso, and Sagrada Familia all ring a bell? Cubism, Surrealism, Modernism, Postmodernism, you name it, you'll find it in this cultural enclave. Visit the best museums in the city for free once a month.
The peculiarity of Catalan culture, mixed with the Spanish proclivity for fiestas, transforms Barcelona into an especially fun city of character the whole year round.
The characteristic of Catalan gastronomy is its reliance on ingredients popular along the Mediterranean coast: fresh vegetables, wheat products for bread and pasta, Arbequina olive oil, wines, legumes, nuts, all sorts of pork preparations, cheese, poultry, and a great variety of fish.
Students can live comfortably on a limited student budget without having to cut back. You can expect to pay around 400€ per month for accommodation and 200€ per month for food and personal expenses.
Transportation costs are low, averaging 26-40€ per month (unlimited travel). In total, you can expect to spend around 600€ per month on your living expenses in Barcelona.
As career and employability are among our students' top priorities, we support career development from the beginning of the student's journey with the Swiss School of Management Barcelona to his/her transition into the real world.
We guide our students by providing them with a wealth of resources and a Career Management Team that works closely with them– strategically preparing them to be market-ready.
Your future is bright in Barcelona!
At the Swiss School of Management Barcelona, we strive for excellence in international business education. Our unique Swiss pedagogy encourages students to develop a professional and business-minded attitude, as well as a commitment to quality thinking.
Start your career journey today.
Get started by exploring our programs or schedule a virtual consultation.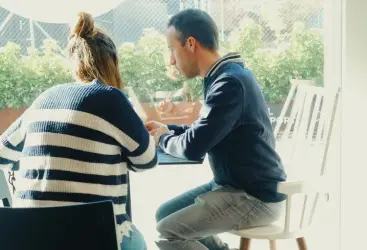 Our student recruiter is here to assist your inquiries. Schedule an online consultation or a personal visit at your convenience.